Are you still looking for the right Christmas, birthday, anniversary or small thank you gift? A CAVALLUNA gift card is the perfect gift idea – not only for riders and horse lovers. A visit to the most popular horse show in Europe is an unforgettable experience for you to share one-of-a-kind moments with your loved ones! Gift card recipients can choose a date that suits them best, because the gift card is valid for up to three years and can be redeemed in a flexible way.
Buy a voucher now
Vouchers are available for these cities :
Please note that the CAVALLUNA vouchers can only be purchased for selected cities.
If you are in a hurry
Our gift cards are also perfect as last-minute gifts: After purchasing the gift card online, you can directly send it to yourself or the gift card recipient by email to print at home. This makes it a perfect gift if you don't have much time.
Of course you can also receive the gift card in a high-quality CAVALLUNA design – after you have made your payment by credit card or direct debit, you will be sent the gift card in a beautiful gift envelope that same day. A stylish gift of pure joy!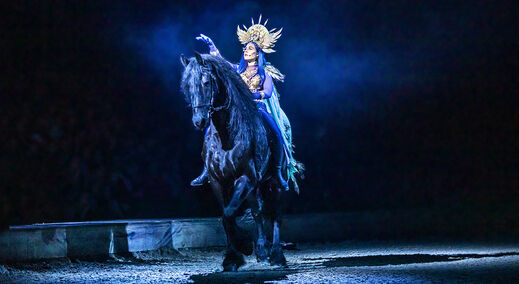 You can order the CAVALLUNA voucher online in our ticket shop or buy it directly at the box office in one of the cities on our tour. Give the gift of a unique experience for all the CAVALLUNA tours throughout Europe – your loved ones will be thrilled!
The gift cards can also be redeemed for upcoming CAVALLUNA shows. You can choose any amount.
Buy a voucher now
Whether you are a horse lover, a show enthusiast or a passionate rider - with a gift voucher from CAVALLUNA you give away a unique experience and unforgettable moments. Give your loved ones great pleasure and show them that they are something very special!
Buy a voucher now