THE MAGICAL WINTER SHOW RETURNS
A JOURNEY TO WINTERWÜNSCHELAND
Following last year's success, CAVALLUNA Kids returns exclusively to Munich with the enchanted show "WinterWünscheLand": The impressive SHOWPALAST is transformed into a wintry wonderland where young and old can experience the heart-warming story of the boy Robert, who has to win back his imagination on an exciting journey. On his way through the magical WinterWishesLand, he learns to open his heart to true wishes and to appreciate the wonders of the world around him. Of course, he has energetic and funny companions by his side: whether fairies, wizards and villains or majestic horses, sweet ponies as well as speedy trick riders - Robert will not forget this adventure in a hurry!
OUR STARS ON STAGE
Of course, our beautiful CAVALLUNA horses are on board again for this show - whether cuddly ponies, elegant Lusitanos or proud freedom horses. Spectacular fire effects, action-packed stunts and wonderful magical scenes perfectly round off the wintry programme. The experienced team of the popular European tour of CAVALLUNA provides rousing music, a great stage set and colourful costumes. And last but not least, of course, extraordinarily talented actors enchant the audience, bringing the characters to life with lots of wit and comedy and telling an exciting and heart-warming story in "WinterWünscheLand".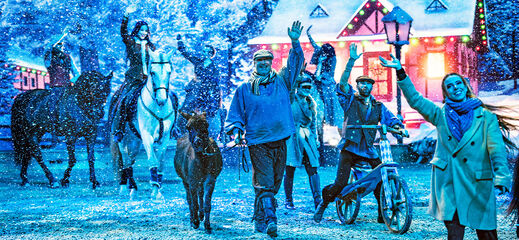 A SPECIAL LOCATION
The unforgettable event for the whole family takes place at SHOWPALAST MUNICH, a location with a special flair. The unique theatre on the grounds of the CAVALLUNA Park has Europe's largest permanently installed LED wall and will be given a special stage set-up especially for the winter show "CAVALLUNA Kids - WinterWünscheLand" in order to bring big and small spectators as close as possible to the action. The whole thing is rounded off by wintery, festive decorations, spectacular lighting design and sensational special effects that support the scenes in an impressive way.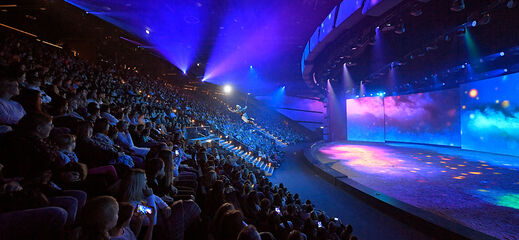 TICKETS & DATES
THE WINTER SHOW 2023/24 IN MUNICH
| Monday | Tuesday | Wednesday | Thursday | Friday | Saturday | Sunday |
| --- | --- | --- | --- | --- | --- | --- |
| Mon. | Tues. | Wed. | Thu. | Fri. | Sat. | Sun. |
| 25. 12. | 26. 12. | 27. 12. | 28. 12. | 29. 12. | 30. 12. | 31.12. |
| 01.01. | 02. 01. | 03. 01. | 04. 01. | 05. 01. | 06. 01. | 07.01. |