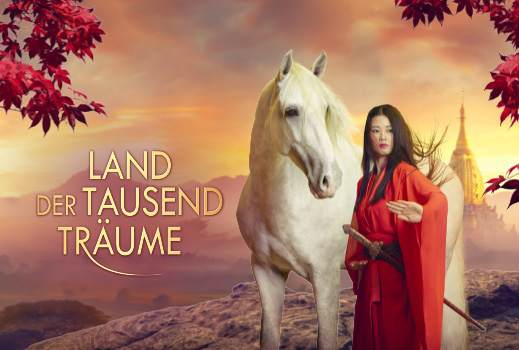 Tour 2023/2024
CAVALLUNA - Land der Tausend Träume
Riesa 2023 | SACHSENarena Riesa
CAVALLUNA is starting the next season with a new programme, inviting visitors of all ages to let themselves be amazed! Of course, Europe's most popular horse show will once again visit the SACHSENarena in Riesa. Join us between 21. to 22. October 2023!
MORE ABOUT THE SHOW
CAVALLUNA Stallführungen:
Exklusive Stallführungen sind in Riesa für unsere neue Show "Land der Tausend Träume" zur Zeit noch nicht im Verkauf. Wenn Sie von uns informiert werden möchten, tragen Sie sich einfach in unseren Newsletter ein! Hier gehts zur Anmeldung: CAVALLUNA Newsletter
Achten Sie darauf, dass das Angebot begrenzt ist. Kinder unter 16 Jahren haben nur in Begleitung eines Erwachsenen Zutritt. Das Stallführungsticket ist nur gültig in Verbindung mit dem taggleichen CAVALLUNA Showticket.
Weitere Informationen zu unseren Stallführungen finden Sie hier: CAVALLUNA Stallführungen
0,20 €/call incl. VAT, Mobile max. 0,60 €/call incl. VAT
Mon - Fri:
8 a.m. - 6 p.m.
Show vouchers
Give pleasure with the CAVALLUNA vouchers. The amount can be chosen flexibly & the voucher is valid for 3 years.
Available for Riesa
Address & Directions
FAQS
SACHSENarena, Am Sportzentrum 5, 01589 Riesa
When is admission to the hall on site and how long does the performance last?
As a rule, the halls open between one and two hours before the show begins. You can find the admission time for your city on your ticket or ask your ticket provider. After that, the show lasts about two hours, plus a 20-minute intermission.
Can I bring my dog or other pet to the performance?
Animals are generally not allowed.