Cantering Backwards through Europe
In 1989, Alejandro Barrionuevo's father founded a classical equestrian centre in Málaga, where people and animals were taught the difference between "riding" and "becoming a union". Accordingly, the centre's motto is "joining two souls in motion". So artful dressage riding with fiery Andalusian horses is certainly in Alejandro's blood. He passes this knowledge on to his riders with great passion. He trains young horses and riding talents with patience and expertise and shows their skills in horse shows all over Europe. You can see that the horses trust him in every single lesson, but one is truly breathtaking: one of Alejandro's horses can canter backwards!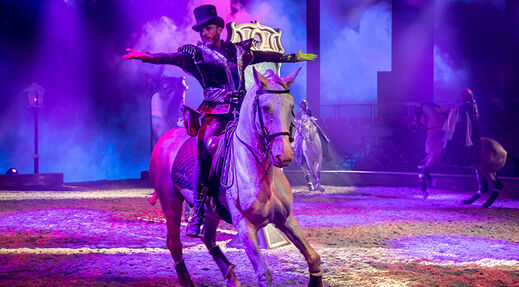 Team Barrionuevo at CAVALLUNA
Alejandro is not only an outstanding rider, but also shines with acting talent. It is only thanks to this that the likeable Spaniard is able to embody every role so well. He is very committed to his art and his job and you can always count on him to keep his word. He chose a great team of riders for his equipe and all of them show their unique horsemanship. They present impressive skills like riding doma vaquera without hands or touch the audience with poignant pas de deux.