With us for the first time
The likeable Carlos Román from Andalusia has been thrilling audiences of all ages with his four-legged friends for 14 years and is a minor celebrity in his home country! The Spaniard has a small stable with horses, ponies and donkeys and already performed in front of an audience as a teenager. Now he is taking part in CAVALLUNA for the first time and thrilling young and old in the arena with his donkey "Caramelo".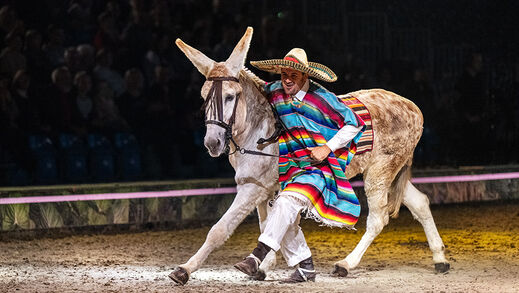 A great team
Whether free work, dressage lessons or circus skills: Donkey "Caramelo" is a versatile star who has already made it to television several times. The audience of CAVALLUNA has never seen anything like this before. The lovable team, consisting of the cheerful Carlos and his talented donkey, will take the hearts of the audience by storm. Together with his donkey, Carlos not only manages to amaze the audience, but the comedic interludes will also remain in the memories of many - a dream team like no other.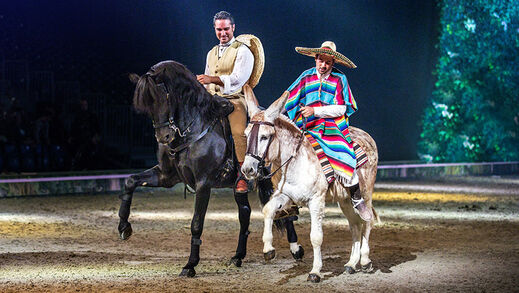 Carlos Román at CAVALLUNA
In the show "CAVALLUNA - Secret of Eternity", Carlos takes on the role of the funny coconut seller Pedro, who helps Joaquim return the Stone of Eternity to its place of origin. He is accompanied by his donkey "Caramelo" and together they provide many laughs. This talented team will remain in the audience's memory for a long time.