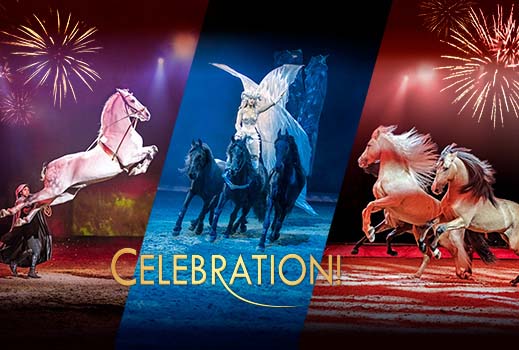 European Tour 2021/2022
CAVALLUNA - CELEBRATION!
Dortmund | Westfalenhalle
Europe's most popular horse show is finally back after the break due to the pandemic and will once again visit the Westfalenhalle in Dortmund. From 18. to 19. December 2021, the show at the arena will be inviting visitors from Dortmund and the surrounding area to dream and be inspired.
Note:
The 2G rule now applies in Dortmund.
You can find more information here.
MORE ABOUT THE SHOW
Current information in the context of the coronavirus
click here
Dear CAVALLUNA visitors,
This year, too, Apassionata World GmbH, as the organiser of CAVALLUNA, has faced various challenges which, among other things, have forced us to adapt our tour schedule to the situation. Therefore, due to the corona-related postponement of this year's shows, all dates of the CAVALLUNA - "Secret of Eternity" programme have been moved to the next tour season. We now have both a new date for "Secret of Eternity" on 17/18/12/2022 and a great alternative show for you! Visit the show "CELEBRATION!" this season, which can only be seen in selected cities - including the Westfalenhalle in Dortmund on 18/19.12.2021.
Tickets already purchased for "Secret of Eternity" remain valid for the above-mentioned rescheduled date of "Secret of Eternity". Ticket holders who have purchased their tickets online will be informed by the respective advance booking offices by email about the further procedure. If you purchased your tickets at a local box office, please contact them. Until then, we kindly ask you to refrain from any queries. Thank you for your understanding!
With kind regards
Your CAVALLUNA Team
Stable tours:
Due to the corona pandemic, the stable tours cannot be offered at the moment. You can register for our newsletter at any time so that we can keep you up to date on this and of course many other interesting topics from CAVALLUNA.
0,20 €/call incl. VAT, Mobile max. 0,60 €/call incl. VAT
Mon - Fri:
8 a.m. - 6 p.m.
Show vouchers
Give pleasure with the CAVALLUNA vouchers. The amount can be chosen flexibly & the voucher is valid for 3 years.
Available for Dortmund
Address & Directions
FAQS
Westfalenhalle, Rheinlanddamm 200, 44139 Dortmund
When is admission to the hall on site and how long does the performance last?
As a rule, the halls open between one and two hours before the show begins. You can find the admission time for your city on your ticket or ask your ticket provider. After that, the show lasts about two hours, plus a 20-minute intermission.
Can I bring my dog or other pet to the performance?
Animals are generally not allowed.