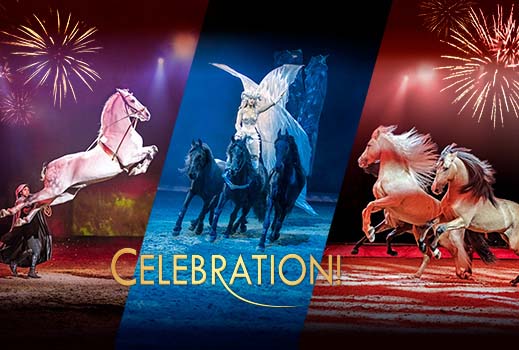 European Tour 2022/2023
CAVALLUNA - CELEBRATION! (presented by APASSIONATA)
Prag | O2 arena
CAVALLUNA is starting the next season with a new programme, inviting visitors of all ages to let themselves be amazed! Of course, Europe's most popular horse show will once again visit the O2 arena in Prague. Join us at 05. February 2022!

MORE ABOUT THE SHOW
Due to the current COVID-19 related measures for events in the Czech Republic and still very dynamic pandemic situation, with the most diverse conditions, entry and safety restrictions throughout whole Europe, it is unfortunately not possible to perform CAVALLUNA Celebration! in Prague at the O2 arena on 5th February 2022.

The tickets can be returned at the pre-sale points where they were purchased.

The entire CAVALLUNA Team apologizes for any inconvenience caused and is already looking forward to come back with a brand new show as soon as possible.

Address & Directions
FAQS
O2 arena, Českomoravská 17, 190 00 Praha 9 – Libeň Prague
When is admission to the hall on site and how long does the performance last?
As a rule, the halls open between one and two hours before the show begins. You can find the admission time for your city on your ticket or ask your ticket provider. After that, the show lasts about two hours, plus a 20-minute intermission.
Can I bring my dog or other pet to the performance?
Animals are generally not allowed.