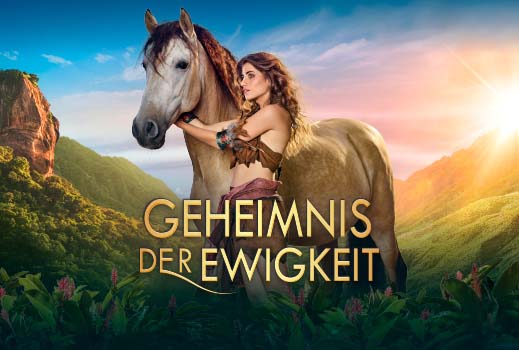 European Tour 2022/2023
CAVALLUNA - Geheimnis der Ewigkeit
Kiel | Sparkassen-Arena Kiel
CAVALLUNA is starting the next season with a new programme, inviting visitors of all ages to let themselves be amazed! Of course, Europe's most popular horse show will once again visit the Sparkassen-Arena in Kiel. Join us between 03. and 04. June 2023!
MORE ABOUT THE SHOW
Current information in the context of the coronavirus
click here
Dear CAVALLUNA visitors,
due to the Corona State Ordinance of Schleswig-Holstein, which came into force on 17 May 2021, cultural facilities will remain closed until 6 June 2021 and large events will be prohibited. Therefore, the CAVALLUNA shows in the Wunderino Arena in Kiel on 5 and 6 June 2021 unfortunately cannot take place.
However, we have a new date for you: The shows "CAVALLUNA - Legend of the Desert" in Kiel will take place on 7 and 8 May 2022. Tickets already purchased are still valid. Ticket holders who have purchased their tickets online will be informed by the respective advance booking offices by email about the further procedure. If you purchased your tickets at a local ticket agency, please contact them. Until then, we kindly ask you to refrain from any queries. Thank you for your understanding!
With kind regards
Your CAVALLUNA Team
stable guides:
Exclusive stable guides are only bookable in our webshop during the booking process. Make sure that the offer is limited. Children under 16 years are only allowed in the company of an adult. The Stallführungsticket is only valid in conjunction with the same-day CAVALLUNA Showticket.
0,20 €/call incl. VAT, Mobile max. 0,60 €/call incl. VAT
Mon - Fri:
8 a.m. - 6 p.m.
Show vouchers
Give pleasure with the CAVALLUNA vouchers. The amount can be chosen flexibly & the voucher is valid for 3 years.
Available for Kiel
Address & Directions
FAQS
Wunderino Arena, Europaplatz 1, 24103 Kiel
When is admission to the hall on site and how long does the performance last?
As a rule, the halls open between one and two hours before the show begins. You can find the admission time for your city on your ticket or ask your ticket provider. After that, the show lasts about two hours, plus a 20-minute intermission.
Can I bring my dog or other pet to the performance?
Animals are generally not allowed.